Just two years before my father Mark Bubeck died, I had the privilege of working with him to update his second book, now titled Warfare Praying. By then, he could no longer use the computer, so I asked him to write out a note to the reader to include in the front of the refreshed book.
Within a few days, he called me to read the note he wrote over the phone. I put him on speaker, and I typed as he read the powerful words in his deep voice.
He began . . . "Holy. Infinite. Eternal. Omnipotent. Almighty. These are 'God' words. They belong to Him alone and express truth about Him that will stand forever."
Tears fell as I typed; I knew I'd never forget that moment.
A year later, when we had to move my dad into hospice care, I found the letter on a clipboard in his home. It was written in his beautiful handwriting—the same handwriting that penned lyrical poems for our birthdays, encouraging letters when we lived overseas, and powerful books that he wrote by hand.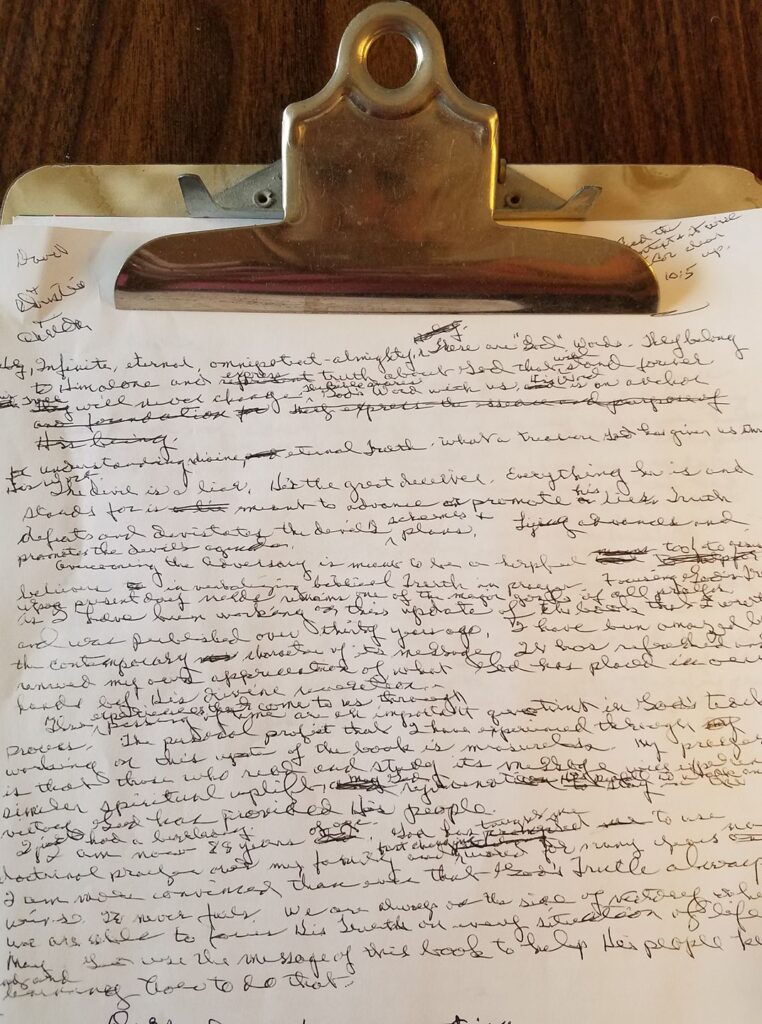 I never dreamed I'd find that handwritten note, especially just a few weeks before he died.
God is so kind.
I told that story at a workshop I taught at a writers' conference just last weekend. The room was filled with women wanting to learn more about discipling their readers through the words that they write. My hope was to encourage them that their words matter, and that they may never know the full impact of their written words this side of heaven.
I ended the workshop by reading a poignant story from my dad's book that beautifully illustrates how he used his gift of writing to teach deep spiritual truths from God's Word in creative ways.
I am so grateful for my job as an acquiring editor at Moody Publishers. The door for this new career was partly opened because I worked with my dad on the editing—and wrote the new preface—for the updated version of his first book The Adversary. After joining Moody five years ago this week, our vice president said that he hopes the books we're publishing today will still be impacting lives 100 years from now.
I am confident that my father's books will be on that list.
(You can find Mark Bubeck's books on warfare, prayer, and revival at moodypublishers.com by searching for his name at that site.)
What about you? I'd love to hear what books have had a deep impact on your life, or about any treasures you've found of loved ones after they're gone. Please leave a comment or email me through this website.