My dad has been a wonder seeker of God and His Word ever since I can remember. He prays like a poet with a mighty warrior's heart. One early morning on a recent visit, he prayed:
"Sometimes we can touch just the edges of the wonder of who You are and it leaves us staggered."
I want to be staggered by the wonder of our Father God!
I have a favorite, old black-and-white photo of me with my dad when I was only three years old. We were at a wedding together where my dad, the minister, was officiating the wedding ceremony and I was the flower girl. All flower girls think the wedding day is all about them, so perhaps that is why I remember the day so vividly over fifty years later.
I remember mama curling my hair, tying my shoes, folding down my lace socks. But what I remember most is the dress. The top portion was soft black velvet and the puffy skirt was scratchy, purple taffeta.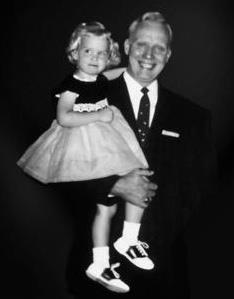 I rediscovered this photo just a few years ago in an old box at my parents' home. What struck me the most is the expression on my father's face. He is literally gleaming into the camera with eyes sparkling and a big grin. I love how he's holding me with his strong arm and big hand, almost like I am tucked under his protective care. And I like to imagine he is thinking, "This is my beloved daughter and she is precious to me."
I always think about the heart of our Father God while looking at this photo, now framed in my office. That's easy for me to imagine because of how my dad fathered me, and the kind of loving father my husband has been to our girls.
But I know that isn't every woman's story. Unfortunately many of my friends have heartbreaking father stories. The homes they grew up in were anything but safe, protective, kind, and good. For some, it's hard to even imagine God as a good, good Father. And yet, those same friends have some of the most beautiful relationships with God as their Father that I have ever seen. It's almost as if they never take for granted that He is good and that He loves them unconditionally.
One of my favorite worship songs is called "Good Good Father," written by singer-songwriters Pat Barrett and Tony Brown. Tony grew up in a home without a father and yet penned the powerful lyrics to this song about our Father God. Whatever your earthly father story is, I pray that the beautiful lyrics of this song encourage your heart today. Here's a link to the YouTube recording of the song sung by Chris Tomlin with songwriter, Pat Barrett, and some of the lyrics are included below:
Oh, I've heard a thousand stories
Of what they think You're like
But I've heard the tender whisper
Of love in the dead of night
And You tell me that You're pleased
And that I'm never alone
You're a good good Father
It's who You are, it's who You are, it's who You are
And I'm loved by You
It's who I am, it's who I am, it's who I am
_____
What about you? I'd love to hear more about your father story, or how our Father God has shown you His faithfulness and unconditional love in your own life.
©2014 WorshipTogether.com Songs / sixsteps Music / Vamos Publishing / Housefires Sounds (ASCAP) / Capitol CMG Paragon / Common Hymnal Digital / Tony Brown BMI Designee (BMI) (admin. at CapitolCMGPublishing.com)