I've been asked to speak a lot lately on practical ways to awaken and revive our prayer lives, including how to leave a legacy of prayer for our families. I also teach on this in my book, The Loudest Roar. Here is the story of how the discovery of some old family slides inspired me to try to leave a legacy of prayer for my own grandchildren . . .
Though in our sixties, my two older sisters and I felt like we were little girls again as we huddled together looking at old slides, projected on the wall of our parents' room. The Kodachrome slides from the '50s and '60s still held their vibrant colors, making it seem like our parents were back in their twenties and still living among us. We oohed and aahed as the wonder of old memories—long forgotten—seemed to fill up the whole room with the click of each new slide.
First, we looked through the slides from the '40s, when our parents met and fell in love. In one of my favorite decades for fashion and hairstyles, our mama's taste for the fashion of the day was impeccable. Many of the photos were of them when they met in college, married, and then honeymooned in Niagara Falls, like many couples from that era.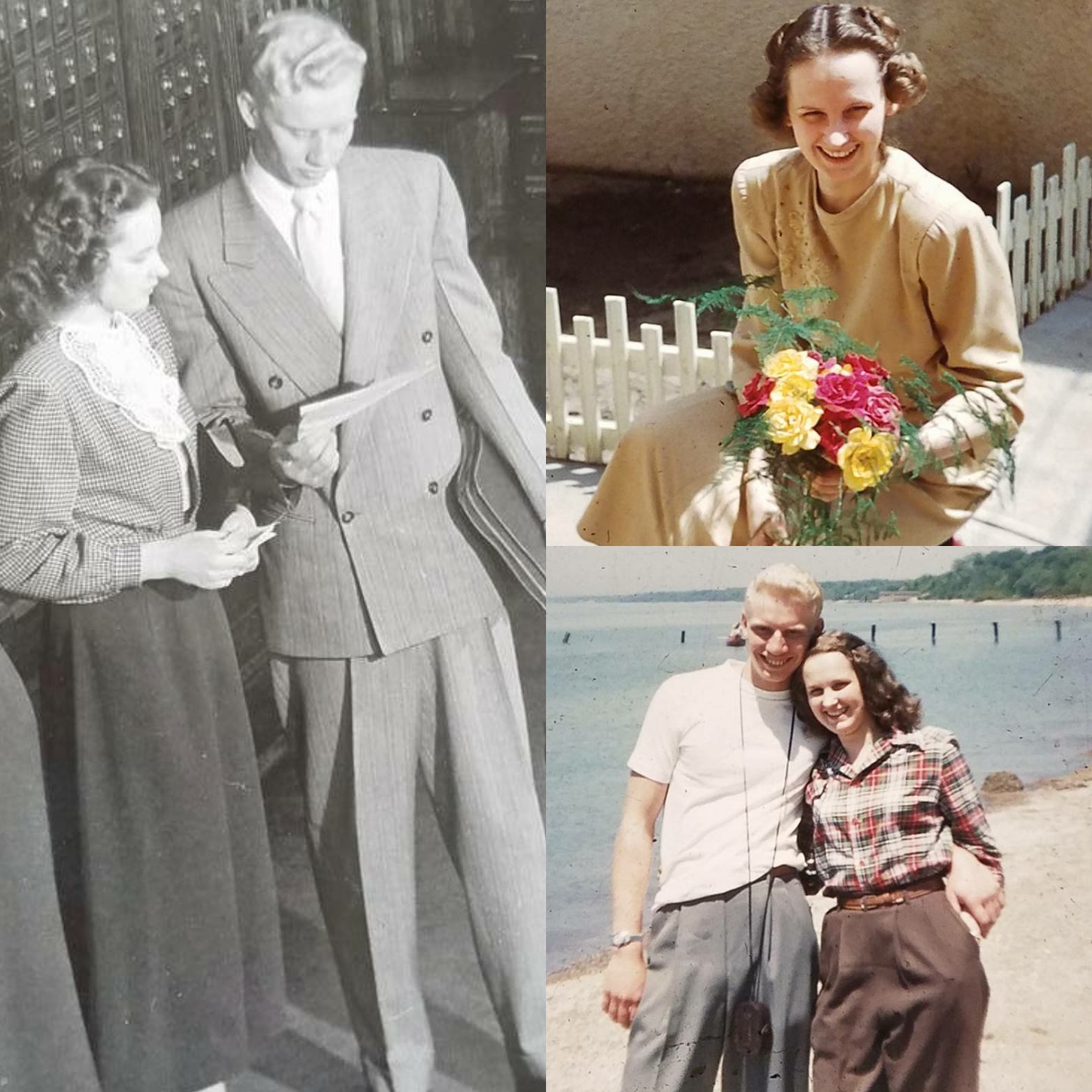 Then came the photos of us three little girls, all born in Denver in the fifties, and blondies like our daddy. We'd all forgotten the time we wore new pastel dresses and our auntie curled our hair when we were reunited with our parents after their long ministry trip overseas. Mama had brought us new dolls, and we each held them up proudly as we smiled our crooked teeth grins of little girls.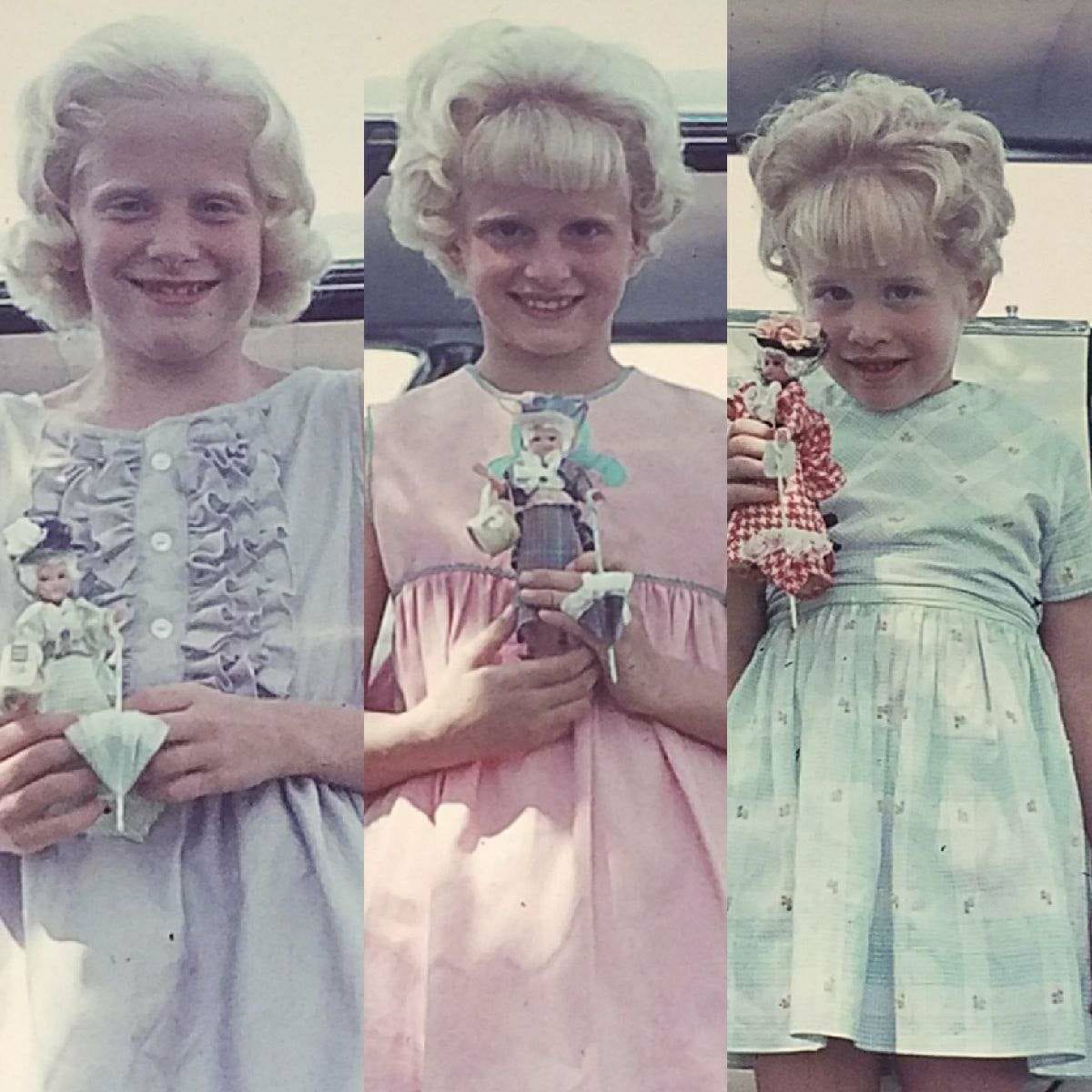 But the photo that made us gasp was the one filled with the images of our mother in her thirties and both of our grandmothers, just in their sixties back in 1964. Two trusted mentors are also there. Nestled among our mama, grandmas, and mentors are us three little girls.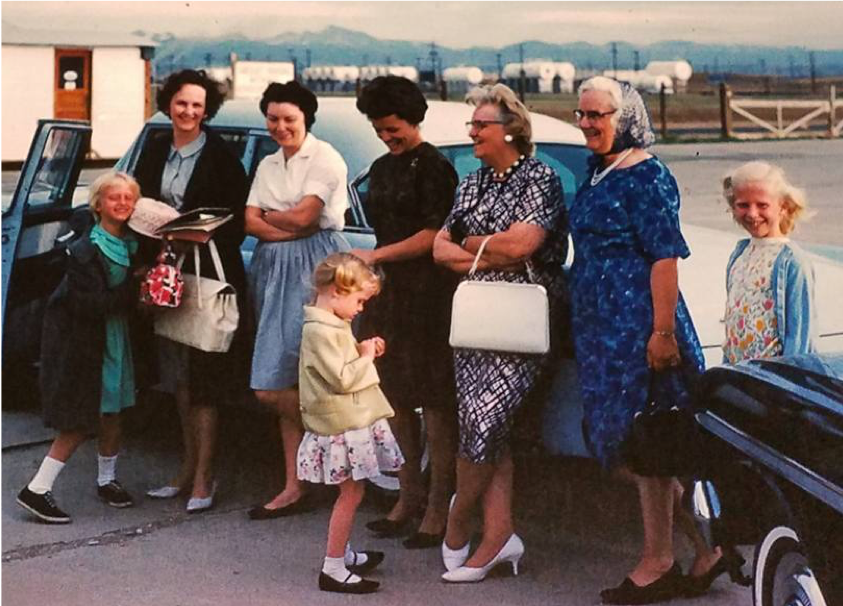 The photo looks like it should be in a magazine, filled with splashes of different hues of blue—the mountain range behind us, the light blue '63 Buick Roadmaster, Grandma's flowered dark blue dress, Rhonda's sweater, and Donna's teal blue dress. Our other grandma rocked matching white shoes with her white purse.
Donna, the middle sister, is huddled by our Mom on the far left while Rhonda, the oldest, is to the far right by our Grandma Nessa Bubeck, an Iowa farmer's wife, and Grandma Eliza Christine, from Chicago whose parents were immigrants from Denmark. I love that four-year-old me is lost in my own little world, oblivious to the love, protection, joy, and beauty that hovers over me. Even my big sisters were my protectors at this stage in my little-girl life.
This photo is even more treasured because just ten years after it was taken both of our grandmothers would be in heaven, one dying of cancer, the other in a car accident. Alzheimer's took my mama ten years ago. Oh, how I love all of the women in this photo! They all loved us—and Jesus—fiercely and prayed like mighty warriors over us for years.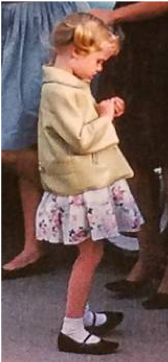 What I love the most about this Kodachrome from 1964 is that it illustrates the impact of the women who came before me. Their prayers continue to echo through my life and that of my daughters and grandchildren. And one day, perhaps there will be a four-year-old great-granddaughter of mine just playing in her room, unaware of the generations of prayers that cover her.
What about you? I'd love to hear about the legacy of prayer in your own life, or perhaps you have the privilege to be the first one in your family to pick up the baton of prayer and cover your family with that priceless gift.
While you're here, you can grab a copy of my free resource, "The Power of Praying Scripture" by subscribing to my website at JudyDunagan.com.