The just-before-peak fall aspens surround us this September morning at our campsite in our Colorado mountains. A light wind makes the aspens shimmer and dance in the sunlight, creating a sound like none other. Their vibrant burst of yellow against a mountain of evergreens takes me back to my childhood, when our family of five camped in these same mountains five decades ago.
Those camping trips with Mama and Daddy and my two older sisters are some of my sweetest childhood memories. Daddy would wake up a different daughter early each morning at 4 a.m. to take us fishing because that's when the rainbow trout were the hungriest. Daddy always caught the maximum number of fish allowed, bringing back enough trout for Mama to grill for breakfast, and often for lunch and dinner, too.
One year while we were camping all three of us girls came down with the measles and fevers, which had to be super fun for our parents. Another year in the middle of the night a bear, standing on his hind legs, banged on our small camper door while Daddy stood on the other side of the door boldly yelling at the animal in a deep and fearless voice. I think that's the only time in my life I knew Daddy was scared.
One of my most vivid memories camping was when I was just eight years old in 1968, and I had a new "Big Chief" writing tablet that Mama bought me for the trip. She knew I loved to write stories and draw pictures to illustrate them. Often while my sisters were out exploring old mine shafts or having other adventures in the mountains, I'd stay close to Mama at our campsite, sitting at the picnic table, writing stories about children having adventures in the mountains.
Years later when I was living on the other side of the country and Mama knew her memories were fading from Alzheimer's, she sent me a box of my childhood treasures she'd found in their attic. At the bottom of that box I found that old writing tablet—which I still have to this day—and it sparked a fresh love of writing for me that had long been put aside.
I love that my man, Rick, is grilling bacon and poblano peppers for our breakfast with cheesy eggs as I type this on my MacBook Pro—a writing tablet a lot different than the one I used fifty years ago. Just now the wind has picked up and its roar through the forest sounds a lot like ocean waves crashing. These mountains really do cry out God's majesty and close presence.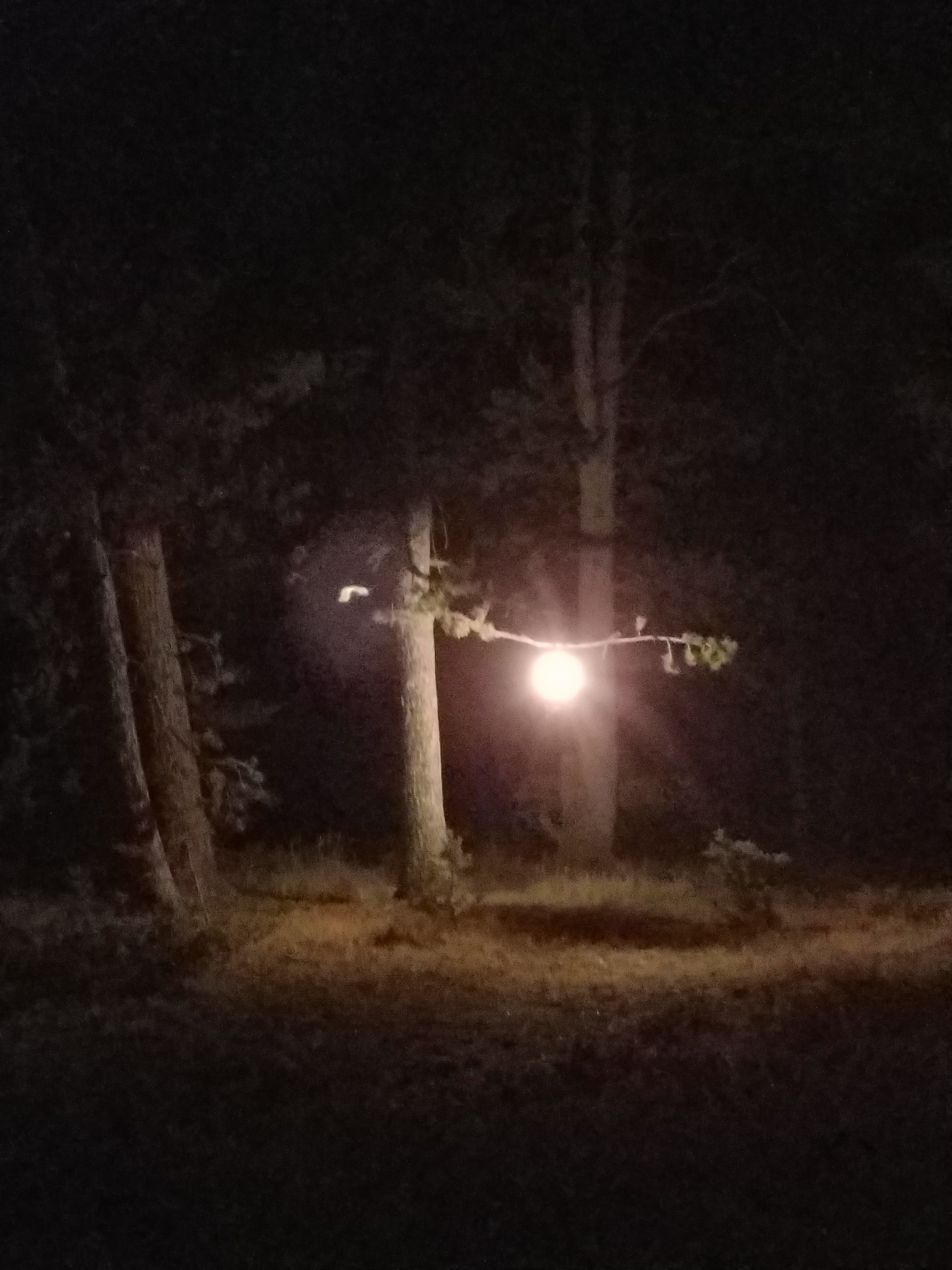 Last night as we sat by our campfire, Rick brought out an old Coleman lantern that my dad gave him when we first got married. It's the same lantern Daddy would bring on our childhood camping trips. Rick hung the lantern on a tree branch a bit down the hill from the campfire. While gazing at that lantern, I found healing tears in my eyes as I knew it was a poignant symbol of my father's legacy. Gone just ten months now, my dad's presence was always a bright light over us. He seemed especially close last night as memories of daddy-daughter fishing trips, growling at bears, grilled rainbow trout, and the sound of dancing aspens flooded my heart.
What about you? I'd love to hear about your favorite childhood memory, especially if God has used that memory to encourage your heart years later. Or, share a funny camping story. Please leave a comment as I'd love to hear from you!